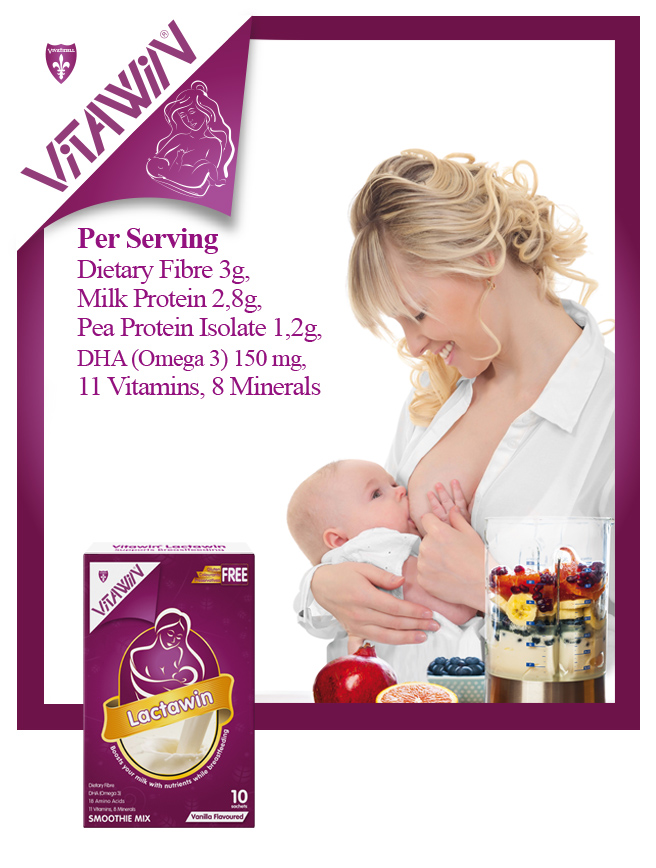 Vitawin Lactavin Breastfeeding Smoothie
Vitawin Lactavin Supports breastfeeding.
Think about the quality of your breast milk rather than quantity.

Breast milk is the primary source of nutrition for your baby. Breastfeeding is the healthiest way to feed your baby. Breast milk adapts to meet your baby's changing needs. If a mother's nutrient supply is lacking, breast milk content is obtained from the mother's bodily stores. When the bodily stores are worn-out, the nutrients in breast milk are depleted. Nutrient rich breast milk can only help your baby continue to grow and develop. The amount of your breast milk may be not enough, but since it is nutrients rich, will help to feed your baby. Nutrient composition of breast milk varies from day to day, depending on food consumption, environment and nutrient needs. Be aware your baby is not getting enough nutrients with your breast milk when your bodily stores are worn-out. Breastfeed your baby with nutrient enriched breast milk.
Vitawin Lactavin supports breastfeeding. It is milk based smoothie which is rich of vitamins, minerals, amino acids, Docosahexaenoic acid (DHA)
Babies generate the fatty acids such as DHA more slowly than adults and thus need to get some via diet (i.e., breast milk). In addition, there is evidence that adults eating a typical western type diet do not get a large enough percentage of the Omega-3 fatty acids. Nursing mothers who get more DHA do have higher levels of DHA in their milk. Vegetarians, particularly vegans, tend to have lower levels of DHA in breast milk.
Nursing and pregnant women are certainly encouraged to eat sources of DHA and alpha linoleic acid. One of the natural and good source is Previn Lactavin.